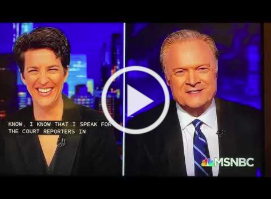 On February 20, MSNBC's Rachel Maddow expressed her thanks to court reporters, saying: "It is really hard to get detailed, perfect court transcripts turned around same day so that we in the news media can read from them on the same day that court proceedings happen."
During the segment, Maddow discussed the work of court reporters with colleague Lawrence O'Donnell. He noted the stenographers "are just miracle workers in the way they capture every word."
"We are happy that Ms. Maddow took a moment to recognize the talents of court reporters," said NCRA President Max Curry, RPR, CPE. "We were aware of Ms. Maddow's admiration for the transcripts she uses regularly and the appreciation she has shown many of our colleagues working in the courts over the years. But we are so appreciative of her taking the time to recognize our hard work on national television, so that more people can recognize the importance of the official record in courts as well as the role stenographers have in protecting the public interest." Curry also sent a letter of thanks to Maddow and MSNBC.
In the past few weeks, court reporters and captioners throughout the United States and around the world have sent articles and letters to MSNBC and other news outlets and then shared those posts through a wide variety of social media outlets to call attention to the importance of the court reporter in legal proceedings in local, state, and federal courthouses, as well as on the floor of the U.S. Senate and House of Representatives. These articles and posts were in response to other comments made on MSNBC by Brian Williams and former Missouri Sen. Claire McCaskill. Many court reporters and captioners have noted that accurate verbatim transcripts happen with technology, often by providing same-day transcripts and sometimes by providing access to a record in real time. Captioners shared that they use the same technology to provide access to public hearings, classrooms, conferences, and live national broadcasts for people who are deaf or hard of hearing. This grassroots campaign overlapped the celebration of the NCRA Court Reporting & Captioning Week, held February 8-15, during which the Association secured official proclamations recognizing the work of court reporters and captioners by U.S. Representatives Ron Kind of Wisconsin and Rodney Davis of Illinois.
A sample of the articles referenced include:
"Thank you to everyone who supported this effort," said NCRA Executive Director Dave Wenhold, CAE, PLC. "Clearly, your time and effort have helped the professions be recognized and valued for your technical skills, your quiet integrity, and your importance in providing an accurate and reliable transcript. We have always known that by working together we have a stronger voice."
Originally published February 24, 2020, on TheJCR.com, a publication of the National Court Reporters Association, and reprinted here with permission from the author.